Committed to seeing your business grow
What makes Partner IT different from other Managed IT Services providers? To start, our focus goes beyond just keeping the lights on. We work with every one of our clients to help align their business technology needs, transforming their IT from a system that just needs support to one that is driving business results and helping them to grow.

We are the most experienced IT Support business in Wollongong providing expert IT support to the people of the Illawarra and Sydney region since 2004.
Our 12+ technicians and support staff are very much a part of their local communities.
Whilst retaining a strong focus in the Illawarra, we service 100+ small and medium businesses throughout the South Coast and Sydney regions.

We have the size, strength and experience to support businesses with their IT requirements in a range of industries including professional services, medical, clubs, manufacturing, hospitality and retail.
"We partner with many types of businesses in the illawarra and Sydney areas, we strive to eliminate IT issues before they cause expensive downtime, so you can continue to drive your business forward. Our dedicated staff love seeing our clients succeed. Your success is our success, and as you grow, we grow."
Our Journey
Did you know our philosphy at Partner IT has stayed strong for 15 years!
Michael our owner always believed that IT service delivery was about a partnership between our organisation and our clienbts. This partnership is a two way ongoing relationship where open comunication, honestly and positive intentions is fundamentals. Today, this is still the fundamental philospy we have held forefront in our client relationships.
Back in 2014 we started with 1 employee, since then we have ground steadily to the team we have today. With half our staff being with Partner IT for over 8 years, the expertise is a strong foundation with minimal impact to our clients during growth.
Though 15 years strong, the majority of our first clients still are with us today. We take great pride in the evolution of technology and adaption of service for our clients as the IT landscape changes through the years. Weather it is Cloud based technologu, or that old Dot Matrix printer, we have dealt with it all.
​

Meet Our Team
Partner IT's team of 15 full time employees based in Wollongong and Sydney are dedicated to providing the best client experience possible!
---
owners & Managing Director
Michael started Partner IT 15 years ago. As the Owner of the business he is able to relate to manay of our clients on an owner to owner level.
Bringing his 25 years of his IT and Business Expertise to the organisation, Mike is a well respected leader
Jason has been involved in the IT sector for 20 years. Though not a "Tech", Jasone has an individual relationship with all of our customers.
Jason is recognised as the go to guy to help ensure our customers are getting what they need.
Professional Services Team Leader
Rocco probably has the longest of the teams IT expertise being involved with Technology since 1990. With 10+ years at Partner IT Rocco also known as the Rock, is one of our solid foundations the business is grown upon.
Finance & Marketing Director
Aimee has been involved in Finance for over 20 years as bring a welth of knowledge to the business operations. Keeping an eye on the latest tech trends, Aimee is on the pulse with our customer technology awareness programs.
What Our Clients Say:
---
Michael, James, Rocco, Jason & the Team at Partner IT have looked after our business for more than 7 years now. This is a service that we heavily rely on in our industry and it's fair to say they give us the greatest confidence not only through their exceptional knowledge but also because they are great people and always have our best interest at heart. We cannot recommend Partner IT enough, great people and a great organisation!Many thanks from James, Laura and the Team at Ianni & Co. Property
---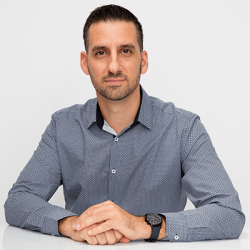 Whether you are a small, medium or large business, you need the IT support no matter what and Partner IT has you covered. The team is always on point. They are always available, quick to respond, provide great communication and take care of any needs so you can focus on your business and not IT stuff. Highly recommended.
Ready to take your business to the next level?
Discover the Partner IT Blog
Stay up to date with the latest tips & tools for business owners.
Depth and breadth of service truly sets us apart
| Header | | |
| --- | --- | --- |
| Server Monitoring & Maintenance | | |
| Network Monitoring & Management | | |
| | | |
| | | |
| | | |
| | | |
| Monthly IT Operational Meetings | Cell | |
| Quarterly Business Reviews | Cell | |
| | Cell | |
| Regular Proactive On-Site Visits | Cell | |
| Dedicated Onboarding Process | Cell | |
| | | |
| | Cell | |
| Security Awareness Training | Cell | |
| | Cell | |
| | Cell | |
| Dedicated Client Success Manager | Cell | |
| | Cell | |
| | Cell | |
| Disaster Recovery and Business Continuity Solutions | Cell | |
| | Cell | |
| | Cell | |
| Scalable to fit your business, from 5-200 employees | Cell | |